The ski season is now open in Piatra Neamt
28 January 2014
No Comment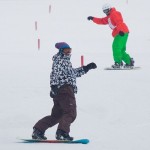 All those that love skiing and snowboarding are invited to come to Piatra Neamt. Winter has finally come and the cold weather creates perfect conditions on the ski slope from Cozla Mountain.
The ski slope from Cozla Hill is located in the north side of Piatra Neamt. The chair lift starts in Darmanesti neighborhood and the Telegondola at the train station from Piatra Neamt.
The prices are as follows:
Ski passes : 1 day – 100RON, half a day – 50RON, half nocturne day – 60RON. The program is from Monday to Thursday from 10:30 to 21:00 and from Friday to Sunday from 09:30 to 24:00.
From Monday, February 3 will be available again the special subscription from Telegondola at 150RON from Monday to Thursday. The subscription can be purchased only on Mondays and has unlimited rides.