Piatra Neamt Days, 24th to 28th of June 2015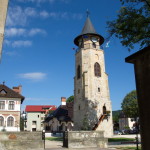 Piatra Neamt Days takes place from 24th to 28th of June, 2015, organized by City Hall and City Council. The Opening Ceremony took place on Wednesday June 24th at 14 am, which continued in the song of the House of Culture brass band. Then followed, from 18.00, The Service and Religious Procession on the occasion of the Nativity St. John the Baptist, thw patron of the county capital.
The events began early Tuesday, June 23rd. So, from 11 am, Museum of History and Archaeology hosted the launch of the: Romanian Royal Family. History Pages in Neamt County, by Mihaela-Cristina Verzea and Nicolae Dumitrașcu, and from 17:00 at the Art Museum was inaugurated Temporary exhibition Masters of Romanian art – Dantes collection, with paintings signed by Gh. Tăttărăscu, Th. Aman, N. Grigorescu, I. Andreescu, Șt. Luchian, O. Băncilă, Gh. Petrașcu, C.Baba, Al. Ciucurencu, Iser, Tonitza, and other masters of Romanian painting. Organized by the Neamt County Museum Complex and Dantes Collector from Iasi, The Exhibition can be visited until the date of July 23rd, 2015.
Gleaned from the events expected to be held in the coming days (June 25th to 28th), both outdoors and in the adequate spaces: theater shows, pop music recitals (Trăistariu Mihai Vasile Şeicaru, Iris), dances and folk music performances (participates talented local soloists, together with ensembles Comorile Neamţului and Floricică de la Munte from the Centre for Culture Carmen Saeculare) competitions and contests organized to sports bases from Entertainment Complex in the lido (Base horse Virgil Barbuceanu: Piatra Neamt City Cup, Marsat Cup, Grand Prix ​​Stage III – Obstacles, FER – dressage CUP) on the mini-football field, Romanian Cup and on established routes National Championship of motorcycling – hard enduro group.
Sunday at evening, rainbows of fireworks will conclude the celebration dedicated to Municipality Days!