Autumn environments in Izvoru Muntelui
9 November 2018
No Comment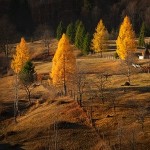 The most well known access point into Ceahlău Mountain and the most visited one is Izvoru Muntelui. From here some of the most well known touristic routes start and go up the mountain. Here is also the place where Ceahlău shows to its visitors its unmistakable silhouette.
Those that want to admire the beauty of the mountain can do so from Izvoru Muntelui. From here you'll see famous rock formations like Butu's Tower, Vânturişu Peak, Detunatele Rocks, Toaca Peak, Ocolaşul Mare Peak and Panaghia Stone.
The clear blue sky and the warm sun rays will invite you for a walk in the surrounding forests. No matter the route you'll chose to climb the mountain you'll reach Dochia Chalet and you'll also have the chance of admiring the beauty of the places.

The veil of the forest and the multitude of the valleys or the steep stone walls are places where you can see the treasures of Ceahlău Mountain. These treasures are not hidden from sight but wait quietly to be rediscovered by tourists that want to enjoy an easy hike on the trails located at the foot of Ceahlău Mountain.
Each season is different and Ceahlău Massif dresses in a spectacular way each time. The beautiful beech forest looks incredible during autumn. The trails located at the base of the mountain will guide your footsteps through the harmony of colors. The attractions of Ceahlău Massif are many, varying  from the common flowers on top of the mountain till big stone formations, each one with its own legend.
Autumn at Izvoru Muntelui, Neamt County