Vovidenia Hermitage – Neamt County
24 September 2009
No Comment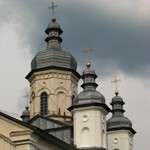 Vovidenia Hermitage is located in the village Vanatori, 15 km north-west from the town of Targu Neamt, near Neamt Monastery.
The patron of the hermitage: "St Spiridon" celebrated on 12 of December and "The Entrance in church of St Mary" celebrated on 21st of November
Year of construction: the XVII century by the Gosan family
Short history
The place where the hermitage is located was used by monks since the XV and XVI centuries. Only in the XVII century this hermitage started to be known to the people as the Slatioru Hermitage. In the year 1790 the Gosan family built a wooden church with the patron St Spiridon. The Archbishop Ioanichie of Roman built in 1749 another wooden church. The new church will receive as a gift books, religious objects, houses and some land.
Between 1849 and 1857 the today's church was built. From an architectural stand of point the church was built in a clover shape plan with five towers from which 4 on the sides and one on the center.
The Vovidenia hermitage was also known as "The Altar from the Peaceful Plane". The inner painting was made between 1868 and 1869 by the painter Constantin Calinescu. A new building for the cells was built here between 1998 and 1999. Today, here we can find 11 monks and the abbot.
Right near the hermitage we can visit the Memorial House Visarion Puiu and the Mihail Sadoveanu Museum.
Photo Album
Click the images for a a larger version
Click here to see all the photo albums
Read more information about Neamt Monastery (history, attraction points, images, video and its hermitages).