Sihla Hermitage – Neamt County
24 September 2009
No Comment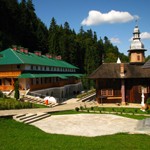 Location: The hermitage Sihla is situated at 6 km from Manastirea Sihastria and is one of the famous monastic settlements from Moldavia. Here spend her life St Teodora
Address: village Vanatori, Neamt County
The Patron of the Monastery: "Nasterea Sfantului Ioan Botezatorul – The Birth of Joan the Baptist" (24 June) and "Sfanta Cuvioasa Teodora de la Sihla – The St Teodora from Sihla" (7 August)
Short history
Since the XV century many monks spend their lives here in this quiet and hidden place. However only in 1741 was built the first wooden church by the Cantacuzino family with the patron "The Birth of Joan the Baptist". In the year 1813 Arhimandrit Benedict restores the church from stone and wood and between 1973 and 1974 Iustin Moisescu together with the abbot from the Monastery Sihastria restores the whole monastic complex. The church is built in the classic style of the Moldavian churches. The wall that separates the altar from the rest of the church was built in the XVII century and is sculpted in lime wood and covered with gold. The painting was made by the painter Vasile Pascu in a Byzantine style.
After the year 1990 the tower of the church was again restored. Here, on the place of the old cells from the west side of the complex, new ones were built out of stone. In the same period of time a new bell-tower was built and a guest house that receives with open arms the pilgrims that come here in quite a number.
In the year 1763 on a piece of rock was built a church made out of the wood that came from only one tree also known as The Church from a Single Tree. The church is the shape of a ship. The interior is poorly lightened and extremely simple – for this reason when you enter in the church you almost feel the atmosphere of an era long gone. The wall that separates the altar from the rest of the church is painted in oil and dates from the XVIII century. Both on the left and the right side of the church there are two small buildings for the cells built in the IX century.
On the north side of the mountain Sihla, on a hidden trail you can climb to The Cave of St Teodora where she lived in tears and prayer many years of her life. The hermitage was built in her memory in the year 1725. St Teodora was sanctified on 7 August 1992 and she is considered to be A Chose Flower of Faith. Here, at the Hermitage Sihla, every year on 7 August, many pilgrims come to pray.


Photo Album
Click the images for a a larger version