Cucuteni Culture Museum from Piatra Neamt
24 September 2009
No Comment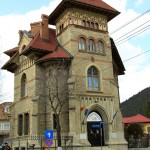 Cucuteni Museum is located neat "Curtea Domneasca" Complex from Stefan cel Mare street no. 3, Piatra Neamt, Neamt County. You can also see other history museums from Neamt County.
Tel: +(40) 233 22 64 71
E-mail: [email protected]
Founded: in the year 2005
Category: History and Archeology Museum
The Program for the Visits:
daily: 9-17 (October – March)
10-18 (April – September)
Monday: closed
Short description
The Museum for eneolitic art Cucuteni was inaugurated in the summer of 2005 and it's the first museum for the Cucuteni art in Romania. This museum runs in the section B of the History and Archeology Museum from Piatra Neamt and it displays over 300 pieces from the Cucuteni and Pre-cucuteni cultures – these objects are included in the category of "thesaurus object" for the national heritage. The Cucuteni culture is the last great culture with painted ceramics from Europe. The characteristic element of the Cucuteni Culture is the ceramics painted in three colors: white, red and black – this is the proof of an extraordinary sense for the color.

Photo of Cucuteni Museum, Piatra Neamt
The museum has two rooms for the exhibition. In the first one, that is located at ground floor, we can see art objects represented by decorated vessels and in the second room and located at the first floor, we can see art objects figurative-plastic, anthropomorphic and zoo-morphic in all phases of development of Cultures Precucuteni-Cucuteni.
To better benefit from the existing heritage regarding the Cucuteni Culture, since 1990, 14 books have been published, several national exhibits as well an international exhibit in 1997. Here, in Piatra Neamt, there is also the International Center for the research of the Cucuteni Culture.