Visit the History Museums from Neamt County
6 October 2010
No Comment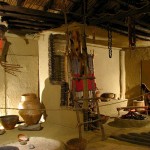 Why would you want to visit the history museums from Neamt County? Because here, in this place the origins of the first people are lost in time. Because here, in Neamt County the ruler Stefan cel Mare built monasteries, Neamt Stronghold and also fought for our freedom. Because here were discovered the remains of the Cucuteni Culture.
And testimonies of all these historic remains can be seen only in the history museums from Neamt County. We encourage you to visit these touristic attractions and to participate in an imaginary voyage in the past of the first people from these places, to be the witness of the artistic creations and to improve your cultural and historic knowledge in the history museums from Neamt County.



The History and Ethnography Museum from Targu Neamt – Here we can find a summary of the medieval history of Targu Neamt as well of the handcrafts from the Neamt area. In the inner court of the museum you'll see traditional machines for the processing of fruits, seeds, wood and wool.
.

The Museum of History and Ethnography from Bicaz – was founded in 1958 and was created with the purpose of displaying historical objects from Bistrita Valley. The permanent exhibition of the museum is organized on three main spaces that illustrate the history from Bistrita Valley and also the 102 paintings donated to the town of Bicaz by the painter Iulia Halaucescu.

The History and Archeology Museum from Piatra Neamt – was founded in 1934 by the priest Constantin Matasa. The main exhibition of the museum is composed by objects that are from the National Thesaurus that represent the evolution of the human communities from this area starting with the Paleolithic period and ending in our time.
.
The Museum for Neolithic Art Cucuteni – was inaugurated in the summer of 2005 and it's the first museum for the Cucuteni Art from Romania. The museum is organized in its own building located across the street from the Architectural Complex "Curtea Domneasca" from Piatra Neamt and it displays over 300 pieces from the Cucuteni and Pre-cucuteni cultures – these objects are included in the category of "thesaurus object" for the national heritage.

The History Museum from Roman was inaugurated in 1957.The first exhibition was open for public in 1958 and it was organized from only 3 pieces. Today the collection numbers over 170,000 objects. The exhibition is permanent and it's hosted in 15 rooms. The objects displayed here are from the era of the carved-stone and up until the First World War.