The Museum of History and Ethnography Bicaz – Neamt County
24 September 2009
No Comment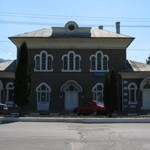 The Hisotry and Ethnography Museum of Bicaz is located on str. Barajului nr. 3, Bicaz, Neamt County. While in Neamt County you can also visit the other history museums from this region.
Tel: +(40) 233 67 12 01
Founded: 1958
Category: Ethnography and Local History
The program of Visits:
daily: 9-17 (October – March);
10-18 (April – September)
Monday: closed
Short description
The History and Ethnography museum from Bicaz was founded in 1958 as a result of the complex research studies made by the Romanian Academy in the area of Lake Dimitrie Leonida. Since 1966 the museum is located in the building of the ex village-theatre named Ion Kalinderu. The building was made at the beginning of the XX century and it's a part of the national list of architectural monuments. The permanent exhibition of the museum is organized on three main spaces which illustrates the history of the Bistrita Valley and also the 102 paintings donated to the city of Bicaz by painter Iulia Halaucescu.


The first space is for the history of Bistrita Valley – here we can see Paleolithic communities and also elements of the life of our ancestors, Dacii. Here we can also see documents and papers that belonged to the architect of the Dam from Bicaz. The second space is about the evolution of human communities in the Bistrita Valley and the ethnographic element present here: traditional furniture, weavings, etc. The third space is dedicated to the plastic art objects.
Photo Album
Click the images for a a larger version