The History and Ethnography Museum of Targu Neamt
24 September 2009
No Comment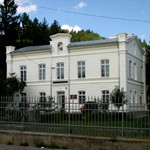 Address: The History and Ethnography Museum of Targu Neamt is located on str. Stefan cel Mare nr. 37, Targu Neamt, Neamt County. You can also visit other history museums from Neamt.
Tel: +(40) 233 66 25 94
Founded: 1957
Category: Ethnography and Local History Museum
The program of Visits:
daily: 9-17 (October – March);
10-18 (April – September)
Monday: closed
Short description
In the year 1940 there was the first exhibition with objects found by professors Ilie Minea and Dumitru Constantinescu, following the archeological excavations in the area of the Neamt Stronghold (Cetatea Neamtului). The museum is founded in 1957 when was also celebrated 500 years since Stefan the Great was crowned. In time the museum had many locations but from 1978 it was moved in the building where we can find it today.
The building of the history museum from Targu Neamt is an architectural monument and it was built between 1852 and 1853. Initially here was the Royal School and it was the place where the greatest storyteller from Romania learned, Ion Creanga and also Vasile Conta. The permanent exhibition lists objects found as a result of the excavations made between 1939 and 1963.


The today's organizational form of the exhibition was established in 1986-1987 when the main exhibition of the museum was completely reorganized. Here we can find a summary of the medieval history of the town Targu Neamt as well of the handcrafts from the Neamt area. In a court of the museum we can see some traditional machines for the processing of fruits, seeds, wood and wool.
Photo Album
Click the images for a a larger version