The History Museum from Roman – Neamt County
24 September 2009
No Comment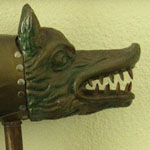 The History Museum from Roman is located on str. Cuza Voda no 16, Roman, Neamt County. Here are other history museums from Neamt County.
Tel: +(40) 233 72 77 26 or +(40) 233 73 46 73
Fax: +(40) 233 72 77 26
Founded: 1957 by Vasile Ursachi
Category: History
The Program for Visits: daily: 09-17
Short description
The History Museum from Roman was inaugurated on 1st of September 1957. The director at that moment was Vasile Ursachi – at that point the institution had no heritage (no objects to display). Since then the museum functioned in many locations but these days can be found in the Negruzzi Palace. The building that hosts the museum is a monument of Baroque architecture from the second half of the XIX century – the most important characteristic of this building is the celling which was ornate by Ludwig Branner in 1884.


The first exhibition of the history museum was open for public in 1958 and it had only 3 pieces. Today the collection numbers over 170,000 objects. The exhibition is permanent and it's hosted in 15 rooms. The objects displayed here are from the era of the carved-stone and up until the First World War. Also, the exhibition features a portion of the Siret River.
Among the rare objects displayed here we can list: the neolitic thesaurus Cucuteni A, the necropolis inventory from Văleni, 480 ornament pieces found at Brad and that are from the Cucuteni A-B, a collier made out of 220 deer canines (the biggest collier in the South-East Europe), medieval object from the medieval city of Roman, coins and other objects of great historical value.
Photo Album
Click the images for a a larger version