Lake Cuejdel – Neamt Country
24 September 2009
No Comment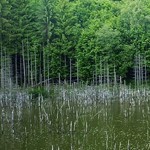 Lake Cuejdel was "born" on the river Cuejdel and is the biggest natural dam lake in Romania, located in the Stanisoara Mountains at 25 km from Piatra Neamt, in Garcina village .
The lake has its origins in a landfall that started in 1978 and ended in 1991. In the last stage took form the natural dam that blocked the entire valley and lead to the formation of the lake.
Located in the silence of the pine forest, the lake has an area of 2.2 ha and 1 km long. The scenery is savage, under the form of a drown forest.
The exquisite beauty of the place and the diversity of life make this place unique. All these things are those that determined the declaration of the entire area under the protection of the law since 2004.
The same conditions that lead to the formation of Lacul Rosu (The Red Lake) were the cause for Lake Cuejdel also. Today, the local authorities are running a program for the modernization of the entire area so that every tourist will be able to enjoy in a safe way this natural wonder of nature.
Photo Album
Click the images for a a larger version