The Memorial House Calistrat Hogas from Piatra Neamt
24 September 2009
No Comment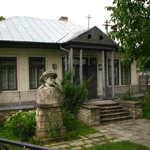 Address: Str. Calistrat Hogas no 1, Piatra Neamt, Neamt County
Founded: in the year 1969
Category: Memorial Museum
Program for visits:
daily: 9-17 (October – March);
10-18 (April – September)
Monday: closed
Short description:
The Memorial Museum was arranged in the year 1969 in the house where the writer Calistrat Hogas (1847-1917) lived. The house has a very interesting architectural style, was built in 1885 and it's enrolled on the list of architectural monuments of The National Cultural Heritage. The museum was restored and rebuild two times, between 1967-1969 and 1992-1994, each time the conservation of the initial structure being preserved.


The permanent exhibition has family documents, manuscripts, the original furniture and personal objects that belonged to the writer. After the death of Calistrat Hogas, his wife and daughters continued to live in this house. In the year 1939 in a room of the house they open a small museum. Only in 1969 the entire house becomes a museum after the government buys the entire collection from the family.
Starting with the year 1994, after the last work of restoration, the house has a certain atmosphere that resembles more to the period of time in which the writer lived. The organization of the museum was made by following the instruction of lady Sidonia, the daughter of the writer.
Photo Album
Click the images for a a larger version