The Museum of Natural Science from Piatra Neamt
24 September 2009
No Comment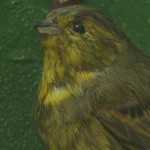 Address: Str. Petru Rares nr. 26, Piatra Neamt, Neamt County
Tel: +(40) 233 22 42 11
Founded: 1960
Category: Natural Science
The program of Visits:
daily: 9-17 (October – March);
10-18 (April – September)
Monday: closed
Short description
The Museum of Natural Science from Piatra Neamt was founded in 1960 in a building donated by Iulian Antonescu, following an initiative from Doctor Mihai Ciobanu. The museum was opened to the public in 15 November 1969 and in a short period of time becomes one of the most visited museums in Romania.


The permanent exhibition of the museum is organized under the form of a monographic presentation of the Neamt County from a geological stand of point and a paleontological and ecologic one as well. Today, the exhibition hosts approximately 40,000 pieces that are related to the flora and fauna of the Neamt County. Here we can also see a collection of fossilized fishes that is unique in the world.
The Museum of Natural Science from Piatra Neamt edits periodically the volume "Studies and researches" which sums scientific articles written by the specialists working at the museum and their collaborators.
Photo Album
Click the images for a a larger version