Bicaz – Neamt County
23 November 2009
No Comment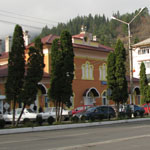 Location: the town Bicaz is located at the foot of the mountain Ceahlau, at the intersection of the roads that go to Piatra Neamt (26 km), Durau (50 km) and Lacul Rosu (30 km). located at an altitude of 432 m and at the confluence of rivers Bistrita and Bicaz, the town is surrounded by the hills Sima (1147 m), Batca Stegea (1316 m) and Cosmita (1014,5 m).
Access ways:
DN 15 from Piatra-Neamt (26 km),
DN 17B and DN 15 from Vatra Dornei (131 km) and Toplita (112 km).
Administration
– Mayor: Mr Constantin Catrinoiu
– The Spiritual Guardians of the town: St Dumitru and St Gheorghe
– Address: Str. Barajului nr. 4, town Bicaz, Neamt County
– Tel: +(40) 233-254 310
– Fax:+(40) 0233-254 530
Email: [email protected]
Web: www.primariabicaz.ro
Short description
In the last years the local authorities are involved in a complex plan to develop the area as a touristic destinationspecially in the villages Izvorul Muntelui and Potoci. As a result they've managed to properly organize the lake Izvorul Muntelui for entertainment purposes. The lake is filled with small boats and small ships for tourists and it's also a belvedere point toward the Ceahlau Mountain. Here, on this lake, every year on the 15 of August there is the celebration of the Navy.
Because of its location, the town Bicaz represents the access point to many touristic objectives from the Neamt County: the lake Izvorul Muntelui (5 km), Ceahlau Moutnain, Tosorog Cave (24 km), Munticelu Cave (26 km), Cheile Bicazului, Cheile Sugaului, Monastery Buhalnita or the Durau resort.



Photo Album
Click the images for a a larger version
Click here to see all the photo albums
Touristic attractions
– The Museum of History and Ethnography – its located in a building from 1909 constructed after the architectural plans of Carol Zane. The museum also hosts the permanent exhibition Iulia Halaucescu.
– The Bicaz Dam – built between 1950 and 1960, it represents a touristic attraction for all those that visit the area. The dam looks like an artificial mountain because of its impressive proportions: 435 m long, 127 m high, 119 m base width.
– The Lake Izvorul Muntelui – it's the biggest artificial lake organized on the interior rivers in Romania, with a length of 40 km
– The Bicaz Harbour – this is a small harbor organized on the lake Izvorul Muntelui for entertainment purposes. Tourists can rent boats, water-bikes or motorboats.
Accommodations
The town Bicaz offers many accommodations near the touristic objectives in the area.