Winter Season in the Natural Reservation Cheile Sugaului
3 February 2010
No Comment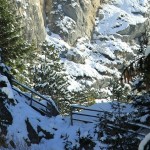 Once covered by snow, the reservation Cheile Sugaului is the perfect destination for a trip to the middle of the wild. The route is an address for those who love nature and mountains, especially those  seeking a way to relax and lose some stress.
Located at the base of the famous reservation Cheile Bicazului, in the upper part of the village Bicaz Chei,  Cheile Sugaului is in the shape of a canyon with a length of 350 m where there are several small waterfalls. Only in the winter season, the cold snow, transforms the waterfalls, along with the entire area in a relaxing place where incredible wild scenery comes together with big pieces of ice on the rocks and water. You'll benefit from a perfect trip in one of the most valued rock formation reservations in all of Romania.
If you take this trip, the route is organized at the cottage Ecolog with steps and handrails, so that all tourists can have a safe trip. If you plan to admire the frozen waterfalls you'll need to be professionally equipped for mountain routes and go inside the canyon. And if you'll enter the canyon, it doesn't matter how much you'll be able to advance: the strange ice formations and rocks will worth all the effort.