Hiking in Cheile Bicazului: Lapos Canyon – Saua Cupasului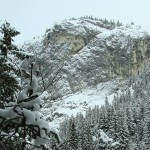 Cheile Bicazului (850) – Lapos Canyon – Cupaş Planes – Saua Cupaşului (1275) – Cheile Bicazului (850) (circular route)
Marking: red triangle, from Saua Cupaşului red circle
Time to make the route: 3 hours
Distance: 5 km
Level difference: 425 m, difficult to make during winter
During winter this hiking route is difficult to make and we recommend full equipment in order to enjoy the beauty of the mountain fully secured.
The route starts at km 29 from the National Road 12C and the markings are red triangles (the starting point is localized right after the tunnel exit, on the first parking on the right). From the start, you'll be facing the mountain, climbing on a narrow trail between tall firs. Your efforts are quickly reworded by a spectacular frozen waterfall on Lapos Creek.

We are now in Lapos Canyon: on our left, along the trail, we can see Cupas Rock – on the right Lapos Creek with small waterfalls bordered by an enormous rock wall. After a while the hiking becomes easier and soon we leave the canyon behind us.
The route goes now to La Sodron where there are some hay storehouses of local villagers. From here, the trail continues to the left towards Saua Cupas, the last hiking portion of this route. On top of this hill there is a belvedere point to the surrounding peeks, the most well known being Suhardul Mare (1504,2 m) and Suhardul Mic (1344,5 m).


The descent will be made by way of the red circle marking. From Saua Cupas you'll go to the left until you reach the forest. There the trail continues until the intersection with the forest road, which is easy to recognize by the electric poles. At this intersection, go left and you'll continue to walk until you reach the National Road DN 12C, a couple of hundred of meters from the starting point.