Hiking Route on Ivanes – Bicaz Chei area, Damuc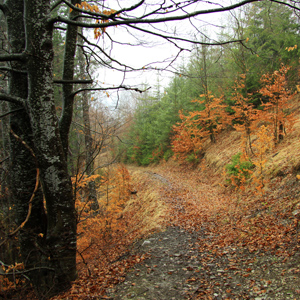 We started our trip to Ivanes in a gloomy morning hoping that the changing weather on top of the mountain will offer us some sun rays. After we packed our equipment and checked the batteries of the photo camera we went on the national road DN 15 from Piatra Neamt to Bicaz and then on DN 12C from Bicaz to Cheile Bicazului.
After you pass Bicaz and Tasca, you'll reach an intersection from where you go to Damuc. You continue by car until the road intersects a secondary route with no asphalt. Here we stopped the car and started our hiking on foot.
Ivanes Hill has a height of 1040 m and starts to grow immediately on our left. We search for a way to safely cross Fundului Creek and we start climbing on a steep trail. After 30 minutes we reach the first plane from where we can see the entire Bicazul Ardelean area. The hiking continues on the crest of the hill and we pass small clearings in the deep forest.
Once we reach the peek we look to our right and see our next destination: Smida Ivanesului Hill. We rest for a while admiring the endless mountains around us, we take a deep breath and start the final climbing. Smida Ivanesului has a height of 1177 m and despite the steep slope it's easy to reach the top.
On the peek, near a hay barn we stopped for a quick launch: this is a good moment to express our admiration for the surrounding natural beauties and to rest our eyes on the hills around us. Looking into the distance we see how the wind is chasing the fog around the hill, creating some kind of mystery veil.
From here we descent on Ivanaselul Creek and once we reach the base of the hill we go to the right along the creek until the small trail becomes a small road. After few kilometers we arrive from where we started our hike.
The route is circular and spectacular. The duration is approximately 6 to 7 hours. It is recommended to have a touristic guide with you on this hike.