Hiking in Cheile Bicazului: through Cheile Bicajelului to the road Drumul Surducului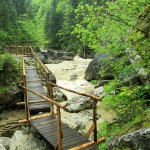 Cheile Bicazului – Hasmas National Park is a spectacular area from Neamt County with numerous hiking trails. Behind the rock walls that surround the road DN 12C opens a world full of wonderful sceneries, haystacks and simple people that live their lives by rules forgotten by us who live in towns. The route that follows goes up through Cheile Bicajelului and reaches Lacul Rosu Resort by traveling on the road Drumul Surducului.
The route starts on the road DN 12 C, at the point called "Podul Ungurilor" – "Hungarians Bridge", located between "Gatul Iadului" ("Hell's Neck") and "Pridvorul Iadului" ("Hell's Hallway"). The route is marked with a yellow line and the first mark you'll see is on the stone that is at the beginning of the route. From here the route goes straight into the forest and after just few minutes it reaches some wooden bridges that cross Bicaje Creek. After that the trail goes up on the right shore of the creek, along the stone called Piatra Surducului.
The scenery from Cheile Bicajelului is spectacular and the rushing waters of the creek smack the stone walls with loud fury. The hike becomes steep and the trail goes to a panoramic point organized above Cheile Bicazului from where you can admire the entire area.
After that, the trail goes down and crosses Cighenilor Creek before it reaches the plane Poiana Surducel and the place called Capraria (a plane full of haystacks). From here you'll follow the road Drumul Surducului, to the right. At some point you'll have to cross Bicajel Creek and it's good to know that in rainy days this can be pretty dangerous because of rising waters.
The trail continues to go up until it reaches a dirt road where you'll see local houses and touristic pensions. Continue to follow that road until you reach Lacul Rosu Resort. From there, you can return to the starting point on the road DN 12C.
Cheile Bicajelului – the plane Poiana Surducel – the road Drumul Surducului – Saua Verescheu – Lacul Rosu Resort – Cheile Bicajelului (circuit). Marked with Yellow Line. Time to make this route is 3 – 4 hours.