Hiking from Cheile Bicazului to Barnadu Village and Vithovos Peak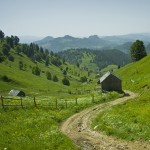 The hiking route starts at the base of Cheile Bicazului at the bus station from Bicaz Chei village. From there the trail twists its way up through traditional houses and enters the forest. From time to time you'll be able to see the spectacular rock formations from Cheile Bicazului. Soon, the asphalted road becomes nothing more than a thin line that goes through the rocks.
After few km of hiking through the forest we reach Barnadu village, located at the base of Ciurgau Peak on the ridge that separates Sugau valley from Bardos valley. The wooden houses built in a pure traditional way respect the local architecture of mountain villages from Moldova. The scenery that surrounds Barnadu village is of rare beauty. You can't overlook that each morning these people weak up and see Cheile Sugaului and Criminisul Peak or Hasmasul Mare Peak.
The road goes through the small houses, near the small church and exits Barnadu village at the foot of Ciurgau Peak. For now the trail seems to spare us of an abrupt hiking and takes us around the peak. From there we can see the entire Barnadu village in the valley, Hasmasul Mare Peak and on the opposite side Jidanului Mountain and on our left Ciurgau Peak.
Our path continues in a twisted shape through Lapos Peak, goes near a sheepfold and after that into the forest until it reaches the place called "Poarta Laposului" (Lapos Gate). The hike is not difficult: only the heat works against us. From Cheile Bicazului to Vithovos stone there are about 12 km. Along the way Vithovos peak appears and disappears behind the hills just like a rock in the middle of a stormy sea.

Before we reach the base of the peak we have a final ridge to cross: from there we see Ceahlau Mountain and Highes Peak. The plains that surround Vithovos peak are filled with cow herds and sheepfolds. We recommend to approach quietly, to great the shepherd and if you are too far to talk to him do not run and do not try to fight back the dogs.
After few hours of hiking we reach the base of Vithovos Peak. The trail is steep and marked with colored lines. Once we reached the top we saw the beauty that nature created around this rocky peak during millions of years. Because of a storm that was approaching we were forced to leave. The returning path goes to the right, descents the hill and reaches a dirt road. At some point this dirt road will intersect with Lapos Creek.
Cheile Bicazului (850) –Barnadu village –Ciurgau Peak (1412) – Lapos Peak (1437) – "Poarta Laposului" (Lapos Gate) – Saua Vithovos – Vithovos (circular route). The returning path goes along Lapos Creek. The time necessary to make this route is between 7 and 10 hours. The starting point is located in Neamt County and Vithovos Peak in Harghita County.