Dochia Chalet – Ceahlau Mountain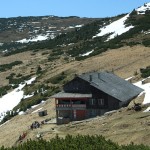 The year 1908 represents the moment when Dochia Chalet was first built, along with Shelter no 1, on Ceahlau Mountain. The construction was realized with the help of over 300 volunteers: sportsmen, priests, professors and people from the surrounding villages. Unfortunately in 1909 Dochia Chalet was destroyed because of a powerful storm.
The reconstruction of Dochia Chalet will begin during the summer of 1910 following the plans made by Gh. Bals and with the help of Carol Zane from Piatra Neamt. The chalet was re-open on August 06 1914 and could accommodate tourists between May 15 and October 15. During the First World War the chalet was again distroyed but again was remade and re-opens in 1927. For 7 years Dochia Chalet provided shelter only for passing by hikers.
Between 1934 and 1958 Dochia Chalet was administrated by many cabaniers that made their own contributions to the extension of the chalet that needed to accommodate more and more tourists. Even though the chalet was destroyed many times, each time was remade and re-opened for tourists.
Between 1958 and 1984 Dochia Chalet is extended and improved by connecting the chalet to fresh water and electricity. Between 1985 and 1989 with the help of horses or the helicopter they build Dochia Chalet as we see it today. Every tourist that wanted to help could do so by caring whatever he/she could from the base of Ceahlau Mountain (bricks or other construction materials).
Dochia Chalet is build from concrete and can accommodate tourists in decent conditions. At ground floor there is the kitchen and the dining room. The chalet can accommodate tourists in rooms of two and four beds (with their own bathroom) and rooms of 7 and 17 beds.
From the porch of Dochia Chalet you can admire Ceahlau Mountain on all its glory. During the sunny days you can also see Pietricica Mountain from Piatra Neamt. View images from Ceahlau Mountain!
Also, read about Fantanele Chalet, from Ceahlau Massif.
The phone for reservations +(40) 730 603 801
Prices:
Rooms with 2 beds 50 RON/bed (aprox 11 Euros/bed) – with their own bathroom
Rooms with 4 beds 40 RON/bed (aprox 9.5 Euros/bed) – with their own bathroom
Rooms with 7 beds 30 RON/bed (aprox 7 Euros/bed
Rooms with 14 – 17 beds 20 RON/bed (aprox 4.5 Euros/bed)