Pilgrimages in Neamt County: from Sihla Hermitage to Daniil Sihastrul Hermitage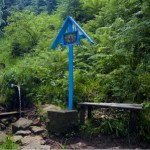 Sihla Hermitage is situated at about 6 km from Sihastria Monastery, in a plane from the south-east of Stanisoara Mountains, also known by the locals as Sihla Mountains. Because of how beautiful and isolated this place is, it was preferred over time by monks. Our journey starts at Sihla Hermitage, on a panoramic point over the old church and continues to Daniil Sihastrul Hermitage situated in a valley locally called "Rapa lui Coroi".
Sihla Hermitage was built in 1725 as a tribute to St Teodora that lived for almost 40 years in a simple cave nearby. After we take one more look to the valley where Sihla Hermitage is located we start our pilgrimage: the trail twist itself between big boulders and reaches St Teodora Cave. We stop for a minute to say a prayer. After that our journey continues on the dirt road that goes to Sihastria Monastery.
Google Maps description of the route
We walk about 2 km before we see the sign that lets us know that it's time to go back into the forest. The hike of 1,5 km to Daniil Sihastrul Hermitage begins with crossing a small bridge. This is the only way to reach this place: by foot. White crosses, carved into the trees by monks, guide our steps to the hermitage.
The trail is easy to follow and is well marked and organized with wooden benches. Towards the end the vegetation turns into an incredible sight. We reach a place where everything from boulders, roots, trees and even the trail is covered in moss of an incredible fresh green.

After that the trail descents to a spring called "the Healing Spring" ("Izvorul Tamaduirii" locally) where you can drink fresh water. From here we can see the entrance into the hermitage. A last effort and we are there. This remote hermitage was built with the help of believers that carried the construction materials with their hands.
Even now the food is carried with the help of a small donkey. At Daniil Sihastrul Hermitage live and pray 5 monks. Life in this remote place, accessible only by foot, it's not easy. That is why when you come to visit this place respect the forest and these people that are always happy to receive visitors and also offer you a place at their table.