We invite you to Piatra Neamt Tineretului Swimming-pool Complex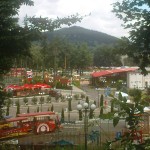 For the last years, Tineretului Swimming-pool Complex from Piatra Neamt is the ideal place for fun and entertainment during summer for people from Moldavia region in Romania. Because of its modern look and equipment the swimming-pool complex offers numerous possibilities to spend the time and to relax on a hot day. Each summer, during the summer holiday, the swimming pool complex is visited by many people that want to get a perfect ten or take a bath in a modern swimming pool.
The Swimming-pool Complex from Piatra Neamt has two pools: an Olympic one with depths from 1,80 m up to 4,60 m and a kids-pool in a oval shape where the water doesn't exceed 1 m. You can also enjoy the warm of the sun on a private VIP beach where you can cool off by swimming in one of the two pools or enjoying a fresh drink at a private bar.
The taxes for entering the Swimming-pool Complex are 1 RON (~0.26 Euro) for kids and 3 RON (~0.7 Euro) for adults. To access one of the pools you have to pay 7 Ron/day (~1.8 Euro) and you can also rent sun-beds and umbrellas. For the tourists that want to accommodate inside the Swimming-pool Complex they can do so at the wooden-houses.
Beside the beach and the pool tourists can also enjoy a relaxing day on the tennis or football courts, barbeque area, bicycle and skateboards areas, outside bars and restaurants.
In the same location you can also visit the Equestrian Base "Virgil Barbuceanu" where you can sign up for a riding lesson or just go and admire the beautiful horses in one of the most modern and well organized equestrian complex from Romania.