Ceahlau Massif Route: Durau Resort – Fantanele Chalet – Toaca Peak – Dochia Chalet
9 August 2010
One Comment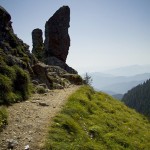 This hiking route from Ceahlau Massif is located on the north side of the mountain. The starting point is in Durau Resort (800 m), continues to Fantanele Chalet (1220 m), Panaghia Stone, Toaca Peak and Dochia Chalet (1750 m). The marking of the route is a red stripe.
The necessary time to make this route is between 3h and 3h and 30 min and has a length of 7,5 km. The level difference is about 950 m. From Fantanele Chalet you can also go to Duruitoarea Waterfall by following a yellow triangle marked trail.
This route from Ceahlau Massif is accessible in any season but during winter it's advised for tourists to be well equipped and extra careful especially near Panaghia Stone and Toaca Peak.
The trail that starts in Durau Resort go through the forest and after few minutes intersects the road that connects Izvorul Muntelui and Durau. After an easy hike that lasts only few minutes starts a steep slope that ends at Fantanele Chalet.

Ceahlau route: Durau – Toaca – Dochia images
Once you reach Fantanele Chalet you'll have a wonderful view over the entire Ceahlau Massif: Toaca Peak and Panaghia Stone. If you're tired, the fresh water from Fantanele Chalet will definitely help you get back on your feet.
From Fantanele Chalet the trail goes up in a steep slope and from time to time you'll pas some great panoramic points that will offer an impressive view over Durau Resort. Shortly after the last steep hike you'll reach a place called "La Morminte" ("Tombs") where you can rest for a while. The name of the place comes from the fact that many soldiers died here during World War Two.


From here the trail goes back into the forest but not for too long. The next exist from the forest will be near a pointy rock called "Caciula Dorobantului". From here you'll have a great perspective over Izvorul Muntelui Lake and the entire region. From this point the trail becomes calm and soon you'll see Panaghia Stone waiting for you to pass near it.
It's a great feeling when you'll get near this impressive and massive stone that probably has one of the most beautiful legends of Ceahlau massif. After you pass Panaghia the trail will take you around Toaca Peak and will also offer a spectacular view to Ocolasul Mare Peak and the trail "Jgheabul cu Hotaru".
The last portion of the route is on the top of Ceahlau Mountain and will end at Dochia Chalet where you can accommodate or just rest for a while and enjoy a hot cup of tea before descending.
You can also read about other touristic routes from Ceahlau Massif.