Fantanele Chalet – Ceahlau Massif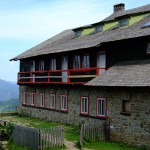 Fantanele Chalet from Ceahlau Mountain has its origins in 1641 in the place called Fantanele, where there was the birth point of three mountain springs. This was a common resting place for shepherds, hunters or common people that came here to stay under the shadow of a secular pine tree and drink some fresh, cold water. In time it became a meeting place on Ceahlau Mountain.
In 1854, here was built a modest wooden house that was designed to accommodate different visitors from the high society of that time: Cantacuzini and Sturzesti families. The first touristic chalet was built in 1876 at the initiative of sub prefect Vasilica Macarascu: the building was made of wood and had two rooms. Many tourists that stopped at Fantanele Chalet wrote their names on the wooden beams of the construction.
Mihai Sandu, the first cabanier from Fanatanele, manages to raise a chalet in 1927 that had two rooms and a kitchen and that could accommodate 10, 12 persons. This chalet was used until 1952 when it began the construction of a new much bigger chalet. The construction ended in 1958 and up until 1980 the new construction was named "7 Noiembrie" ("November 7"). After 1980 the chalet was once again known as Fantanele Chalet.
The one that brought water to the chalet was Th. Lacatusu, by using a spring he discovered behind the chalet. In 1984 the construction is connected to electricity. To reach Fantanele Chalet you can use the route bookmarked with a red line that continues to Toaca Peak and Dochia Cahlet from Durau Resort or red cross to Duruitoarea Waterfall and from Steofan Plane yellow triangle.
Also, read about Dochia Chalet from the top of Ceahlau Massif.