Nicolae Grigorescu's paintings from Agapia Monastery
11 August 2010
No Comment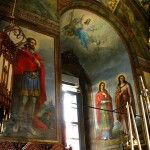 Agapia Monastery is embellished for eternity by the saints painted by Nicolae Grigorescu between 1858 and 1861. He was hired to do this job by Tavefta Ursache, the abbot of Agapia Monastery. She saw an icon of St Mary painted by Nicolae Grigorescu, that we can see today in the museum of the monastery and she was convinced by his talent.
Although he was just 20 years old when he started to paint the interior of Agapia's church, Nicolae Grigorescu manages to create an immortal piece of art, which successfully combines the Byzantine tradition with the neo-classic style and the traditional Romanian art.
In the portraits of his saints, Nicolae Grigorescu uses as models priests, nuns, peasants, children or simple people that pass through Agapia Monastery. The result is a realistic painting: reality is presented with great precision and artistic skill. You can see the strong features of the faces, the beautiful colors, graceful poses, basically images full of humanity and dynamics.

Agapia Monastery Paintings by Nicolae Grigorescu
We can admire a genius art piece inside the church from Agapia Monastery as a proof that Nicolae Grigorescu manages to paint in a traditional way and to create "a Romanian version of religious paintings" such as: The Path of the Cross, The Prayer from Gethsemane garden, The Descending in the tomb of Jesus, The Last Supper, The Entrance in Jerusalem, St Mary with Baby Jesus. Among the icons that depict prophets is the portrait of Daniil, which is in fact a self portrait of the painter – a chance to see how Nicolae Grigorescu looked when he was young.
From all the paintings present at Agapia Monastery, the most valuable is the painting of St Mary with Baby Jesus in Her Arms. The model for this painting was a simple woman from Filioara village. The value of this icon is that presents the face of St Mary with features of a simple Romanian woman and with the attitude of a traditional peasant from Moldova.