Touristic route in Ceahlau: Bicazul Ardelean village – Curmatura Stanile – Dochia Chalet
18 August 2010
No Comment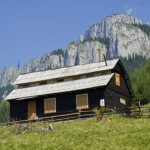 This touristic route is located on the south west region of Ceahlau Massif. Here are some points along the route: Bicazul Ardelean (580 m) – Telec (680 m) – Curmatura Stanile (1420 m) – Dochia Chalet (1750 m). The route is marked with a blue line on a white background. The length of the route is 17 km.
The route can be made on foot from Bicazul Ardelean village to Dochia Chalet or by car to the end of the dirt road that goes through "Poiana Stanile" Plane and then by foot on a 1 hour hike trail to the top of Ceahlau Mountain.
This route is truly spectacular and full of wonderful views, if you decide to make it on foot. Normally the length of 17 km makes it one of the longest touristic routes from Ceahlau Mountain but because of the possibility to drive almost the entire way makes it one of the most used routes to reach the top of Ceahlau Mountain with minimum effort.

Images from Ceahlau: Curmatura Stanile
The hike begins in Bicazul Ardelean village where you make a right (as you're coming from Bicaz) and continue to follow the asphalt road until the first junction. There you'll go to the right (the road from the left goes to Highes Peak and Tosorog Cave). You follow the dirt road until you'll see a sign that will show the dirt road that goes along Bistra Mica creek (the sign will point you to Stefan cel Mare Monastery from the top of Ceahlau Mountain).
Following the dirt road will take you to "Poiana Stanile" Plane where you'll experience the first breathtaking view over Ceahlau Massif. Starting with Butu's Tower on the right and continuing with the entire stone wall of Ocolasul Mare, the view is spectacular. Behind you, facing the stone wall, you'll see St Antonie Hermitage: a religious settlement that seems to be located at the entrance in Heaven.


In "Poiana Stanile" Plane there is also the barrier that marks the entrance in the National Park Ceahlau. From here you'll have 4 more km to make on the dirt road before entering into the forest. The trail is steep but short and soon you reach the top from where you'll have another incredible view towards "Gardul Stanilelor" ("Stanilelor Fence"). Continue to follow the trail and soon you'll see Toaca Peak and "Piatra Lacrimata" Stone. At some point the trail splits: to the left it goes to Stefan cel Mare Monastery and to the right to Dochia Chalet.
If you choose to see the monastery first you'll have a delay of maximum 15 – 20 minutes but is well worth it. From the monastery to Dochia Chalet you'll make about 10 minutes.