Touristic route in Ceahlau Massif: Durau – Duruitoarea Waterfall – Dochia
10 September 2010
No Comment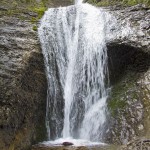 Route no 5: Durau Resort (800 m) – Vesuri Plane (1200 m) – Duruitoarea Waterfall (1210 m) – Polita Scaius (1400 m) – Polita Arinis (1650 m) – Piciorul Schiop (1780 m) – Dochia Chalet (1750 m)
This hiking route from Ceahlau Massif is marked since 1936 and it's one of the first marked routes from Ceahlau. The marking is a red cross on a white background, the time necessary to make this route is about 5 hours and the length of the route is about 7.5 km. Because of its difficulty, the portion after Duruitoarea Waterfall is forbidden during winter.
The hike starts in Duraru Resort, continues near Cailor Plane and then goes into the forest. At some point the trail will cross the asphalted road from Izvorul Muntelui to Durau and continues to climb through the forest until it will reach Vesuri Plane. From here the hike is easy to make and after a descent and a short climb you'll reach Duruitoarea Waterfall.

Photos of touristic route from Duruitoarea Waterfall to Dochia Chalet
The strong sound of the waterfall can be heard from the distance. The water first drops from 25 m onto a rock and the follows another 5 m drop. Near the waterfall there are a few benches where you can rest and admire this natural beauty. You can also see photos of this route starting from Durau Resort and up to Duruitoarea Waterfall.
The waterfall is located half way up. The portion of route that follows is difficult to make and it's closed during winter. The trail is framed with wooden railings and goes on a steep slope. After a short level curve, the trail goes up on the edge of Scaius Gorge, twists itself through the trees and reaches the place called Polita Scaius (1400 m). From here you'll have a spectacular view over Toaca Peek and Piatra Ciobanului Stone.


On this portion of route you'll need to be very careful not to slip on the roots of the pine-trees. You'll cross Arinis Gorge and you'll climb to Polita Arinis where you'll find three springs and an impressive view over Rarau Mountain, Piatra Ciobanului Stone and Toaca Peek. The trail narrows itself and climbs the last 200 m to Curmatura Piciorului Schiop (1750 m). From here the route is marked using iron poles.
Near Voda Gorge the route intersects the trail that comes from Bicazul Ardelean and then continues towards Piatra Lacrimata Stone and then to Dochia Chalet.