Autumn Sceneries in Piatra Neamt
27 October 2010
No Comment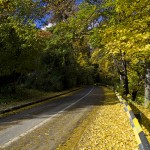 A wonderful bouquet of colors can be seen these days in Piatra Neamt. The first days of autumn have come! The warm summer days are now gone and in their place we feel the cool breeze of autumn season.
The leaves are now yellow, red, orange and brown. One by one they fall from trees at the slightest wind breeze. Only the warm rays of the sun stay now between autumn and winter. The wind carries on its wings the smell of ripe fruits and the blue color of the sky is really impressive in this cool atmosphere.
A walk through Piatra Neamt in a sunny autumn day means a trip in land full of colors, peace and beautiful sceneries. If you start at The Architectural Complex "Curtea Domneasca", in the center of Piatra Neamt you'll witness a spectacle of colors and beautiful architecture. From here you'll see the edge of the surrounding forests turning into red, yellow and all sort of autumn colors. The benches are part of the scenery and many of them hold the falling leaves.

Autumn Sceneries in Piatra Neamt, Neamt County
After Curtea Domneasca, go on the twisted road that takes you to the top of Cozla Mountain and you'll experience a walk into a colorful tunnel made out of the branches of the trees. The leaves are forming a thick carpet and with every wind breeze they get on their small tails and perform a strange twisted dance. From time to time the forest clears and you'll have a chance of viewing the entire Piatra Neamt town.
Another place perfect for an outdoor walk in Piatra Neamt is the road that goes to the Entertainment Complex "Peste Vale". Here, beside the usual colors of autumn, the nearby houses send a wonderful smell of ripe grapes and autumn apples.
Don't waste any time. Autumn is short and soon the trees will only have empty branches. Take a walk and admire this beautiful season. We invite you to visit Piatra Neamt and experience the beauty of autumn!