Christmas traditions in Neamt County
17 December 2010
No Comment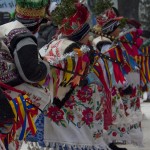 Neamt County is a mountain area where Christmas traditions are transmitted from one generation to another. Although the lifestyle from present days creates contradictions even in the most remote villages, traditions and customs are kept alive, especially those referring to winter season. Christmas and New Year's Eve traditions represent a true touristic attraction that tourists can experiment at one of the traditional pensions from Neamt.
The traditional houses from this area have a tall roof and a covered porch and are full of warm and hospitality. These traditional houses, decorated with all sort of folk art objects, with wood sculpted elements keep these beautiful traditions alive. Here, in Neamt County the present blends with the past: a world where traditions are kept alive just like a covenant between God and humans.
During Christmas, the orthodox rituals blend with local mythology: the fantasy blends with the surrounding reality and together express the way people from this area see life, in the same way our ancestors did.
Christmas traditions involve the decorated pine tree, carols, presents and traditional Moldavian food. Every house is prepared with joy to welcome one of the greatest orthodox holidays: the birth of Christ.

Christmas Traditions, Neamt County
Usually this holiday is celebrated among friends and family around a table fill with all sorts of goodies: colaci, cozonaci cu nuca, sarmale and pork (toba, leber – some kind of pate, carnati – sausages, tochitura, piftie, sorici – rind).
Tourists that come to Neamt County during the winter holiday can taste some of the great food and buy traditional crafts handmade by local artisans: religious painted icons on wood or glass, traditional fabrics, masks, wood sculpted objects and so much more. We invite you to Neamt to experience a traditional Romanian Christmas.