Piatra Neamt Ski Slalom Cup – 2011
28 February 2011
No Comment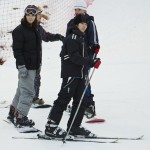 This Friday, March 4 2011, at Piatra Neamt will take place another winter event and that is Piatra Neamt Ski Cup that will feature awards of 1500 cash Euros. The contest will begin at 15:00 with qualifications for the final. Those interested in participating at this event are expected to enlist on Cozla ski slope.
People interested in this event are invited both Friday March 4, for the competition as well Saturday March 5, when starting with 20:00 at the base of the ski slope there will be music and fun. The weather from the last weeks, with lots of snow and cold temperatures made it possible for organizing these winter competitions at Piatra Neamt.
We are in the third consecutive week when we'll have the chance of participating at a winter festival on Cozla ski slope. The series of contests started with Snowboard Big Air Contest, where some of the best snowboarders of Romania participated, followed by Snowboard Parallel Slalom last week, a contest open for amateurs and professionals as well.

Photos from Piatra Neamt Ski Slalom Cup – 2011
The organizers of Piatra Neamt Ski Slalom Cup 2011, Perla Invest by ATM with the support of Piatra Neamt Town Hall, invite you to participate at this winter event and to have a good time.