Route in Cheile Bicazului: Bicajel Valley – Cherecului Stone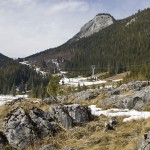 The route is marked with a red circle and starts on the road DN 12C that goes through Cheile Bicazului (Bicaz Gorge) near Lacul Rosu restaurant. From here you go on the paved road that goes to Bicajelul de Jos village located at an altitude of 885 m. In the beginning the dirt road climbs through the forest and soon you'll reach a church from where you'll have a spectacular view over the entire Bicajel Valley.
You'll pass some pensions where you can accommodate. Follow the dirt road guarded on both sides by pine trees, willows and small spruces. Along the road you'll see the shepherds homes, constructed in places with spectacular natural views.
After you pass the small village Bicajelul de Jos you'll reach the place called "La Bechet" a spectacular gorge where the whirling waters of Bicajel try to pass the big boulders of rock. The view is both spectacular and wild.
The route leaves the gorge and in front of you will open a massive plane. The dirt road continues toward the villages Bicajelul de Sus and Trei Fantani but the route makes it to the right towards "Piatra Cherecului" Stone. Now you're hiking near the creek Jgheabul Cherecului through a pine tree forest until you reach "Poiana lui Paleu" (Paleu's Plane). From here you'll go toward the village Fabrica Veche.

Photos from the route: Cheile Bicazului – Bicajel Valley – Cherecului Stone
From Fabrica Veche you'll continue on the valley of "Paraul Oii" (Sheep's Creek) and you'll also pass near the camping site "Paraul Oii" where you can accommodate. From here you'll soon reach again the road DN 12C.
You can continue on the asphalted road and reach the starting point or you can go on the trail that passes near the lake called Lacul Rosu (The Red Lake). The time necessary to make this route is about 6 hours. Up to the place called "La Bechet" the route is accessible all year long. From here it depends on how heavy was the snow fall.