"Lada cu Zestre" Festival of Folkloric Art 2011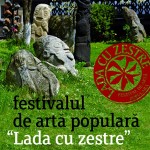 During May 27 – 29, 2011 in Tineretului Park from Piatra Neamt will take place the VI edition of "Lada cu Zestre" Festival of Folkloric Art. The festival is now a local tradition in Neamt County and the local authorities want to turn this into a touristic event and also use it as an opportunity to keep the old crafts alive and to encourage younger generations to keep these traditions go on.
The manifestation will gather over 70 artisans from Neamt County and also from other regions of Romania that are well known for their local folkloric arts. During the three days of festival visitors will also have the chance of participating in open workshops of pottery and glass painting together with children from the Folkloric Art School of "Carmen Saeculare" Cultural and Art Center.
Neamt County is one of the places where the passion for folkloric art of the local artisans made it possible for us to see the old traditions and old crafts come to live again.


Together with folk artisans at the event will also participate ethnologists, curators, researchers, writers, representatives of specialized organizations, associations and foundations and also representatives of the local authorities.
The organizers of the VI edition of "Lada cu Zestre" Festival of folkloric art are Neamt County Council, the local Council of Piatra Neamt, Neamt County Museums Complex and the Artisans Association from Moldova. We invite you between May 27 and 29, 2011 to be a part of this event, to support our traditions and to enjoy three days of folkloric art in Piatra Neamt.