Cerebuc Hermitage from Neamt County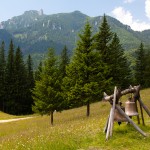 Cerebuc Hermitage is administrated by the Monastery from Ceahlau Mountain. The patron of the monastery is St Ilie. The hermitage was built on the place of an old religious settlement that dates from 1614. The place is located at about 20 km from Bicaz, in Izvorul Alb village. Here there are 5 monks that administrate the hermitage.
This religious settlement was extremely important for the religious life in these parts especially between XVIII and XIX centuries. For a long time here existed the bell from Ceahlau Mountain and even though for a time there was no church here the locals celebrated the place each August on the date of 6.
Starting with 1995 the brothers Munteanu managed to reinstall the religious life in this place by starting the building of a new wood church and few cells.
The church is now located in Cerebuc plane in a place of unique beauty and with a great view over Ceahlau Mountain. The interior of the church is beautifully painted in a realistic manner. You can reach the hermitage by driving about 7 km on the road that goes from Izvorul Muntelui to Durau Resort. At the touristic indicator you'll have to walk for 10 minutes through the forest.

Cerebuc Hermitage, Neamt County