Visit the Waterfalls from Neamt County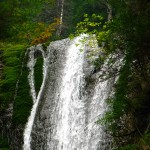 Neamt County has several waterfalls that are worth visiting. Among these wonders of nature here are three that are well known:
Bolovanis Waterfall is located in Tarcau commune, on Bolovanis Valley in Tarcau Mountains. In this place there are several creeks that go through the rough terrain. Right at the beginning of this valley tourists can see Bolovanis waterfall, one of the most spectacular waterfalls in Tarcau Mountains.
Duras Waterfall is located 4,5 km from Negulesti resort on the upper course of Iapa creek. The road that goes to the waterfall starts in Negulesti resort and goes to the building of Frasin Forest Department where you'll also see a wooden barrier. From here you'll walk for about 300 m and on the left side of the road you'll descent through the forest. The trail is steep so be careful. After few meters you'll see the waterfall.


Duruitoarea Waterfall is located in Ceahlau Mountain in the place called Duruitoarea at 1270 m altitude. The waterfall was formed on Rupturii creek. The waterfall has a height of almost 100 m and the sound it makes can be heard from a considerable distance. To reach the waterfall you'll have to hike on one of the two touristic routes that start in Durau Resort. At the base of the waterfall tourists can rest on benches and admire this wonder of nature.