Pedaling toward Cuejdel Lake
22 September 2011
No Comment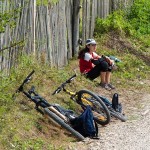 Green hills, fascinating scenery, countless forestry roads and trails make the surroundings from Cuejdel Lake the perfect place for cycling. This route starts at the church from Garcina commune, near Piatra Neamt and continues on the forestry road that crosses the village and the forest near the lake.
The road with the bicycle through the village offers you the occasion to discover the history of the place, to admire the traditional houses and the planes of grass where flocks of sheep walk slowly. At the exit from the village the road goes into the pine tree forest where you'll feel the cool air and the sun rays struggling to go through the thick tree branches.
The forestry road continues to a beautiful plane where tourists come to relax and enjoy some peaceful moments. From here you'll see an indicator "Spre Lacul Cuejdel" where the road goes to the right and climbs on a steep slope the nearby hill.

Garcina rural area, Neamt County
The green grass, the colors of the flowers, the blue sky and the solitude of the place accompany you to the destination but not before going on the dirt road that twists itself through the forest until it reaches Cuejdel Lake.
Along the forestry road there is also a creek that carves under the tree roots before flowing into the lake. The sound of the water is like a song in the solitude of the forest until before your eyes appear the image of Cuejdel Lake, also known as the Cross Lake. This is the biggest natural dam lake from Romania and is located at about 25 km from Piatra Neamt.
The lake is located in the middle of the forest and to admire its entire beauty you'll have to surround it on the bicycle and be amazed by everything that nature created here.