Pedaling through Magazia and Cracaul Negru villages to Cuiejdel Lake
23 October 2011
No Comment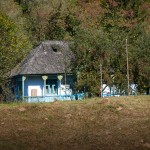 The route starts in Cracaoani commune and goes through Magazia and Cracaul Negru villages. The entrance in these villages is made from the national road that goes from Piatra Neamt to Targu Neamt (DN 15 C). The beautiful scenery, the mountains, the valley of Cracau creek and the rustic appearance of the entire area makes this a perfect place for tourists to uncover a piece of the past.
The villages Magazia and Cracaul Negru impresses the visitor because of their traditional architecture, with wood houses covered with traditional materials and sculpted fences with beautifully decorated gates.
In these parts much of the traditional occupations are still kept alive. A walk through these parts will offer you a chance of seeing a glimpse of the past mixed with the present day way of life.

The road from Cracaul Negru to Cuejdel Lake, Neamt County
From Magazia village the route goes on the forestry road Paraul Gardului . The road twists through trees and rocks until it reaches the lake. Cuejdel Lake was formed in few stages on the middle course of Cuejdel creek and is the biggest natural dam lake from Romania.
Visiting these places on a bike will offer you the chance to experience the life from these parts and see the beautiful nature that surrounds these villages.