A trip from Piatra Neamt to Bicaz
21 November 2011
No Comment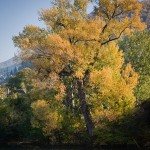 Autumn is a spectacular season that calls you to take nature walks and to admire the wonderful colors of the trees. From Piatra Neamt to Bicaz the road will take near breathtaking sceneries with great colors, perfect for taking photos or just to take a walk. Here are some touristic attractions from this route:
Bistrita Monastery is located in Bistrita village, at 8 km from Piatra Neamt. The monastery was built by ruler Alexandru cel Bun and it's one of the oldest monasteries from Neamt County. Here you'll find the religious icon of St. Ana.
Bisericani Monastery is located on Pietrosu Mountain, at 12 km from Piatra Neamt. Among those that contributed to the building of this religious settlement we find rulers Alexandru cel Bun, Stefan cel Mare, Stefanita Voda, Petru Rares and Alexandru Lapusneanu.
Pangarati Monastery is located in Pangarati commune near Dimitrie Leonida Hydroelectric. The church of the monastery dates from the XV century and presents an unique architecture with two churches built on top of each other.

Autumn toward Bicaz 2011, Neamt County
Pangarati Lake is located on Bistrita Valley, near Stanisoara and Gotmanu Mountains. The lake has a great importance for the migrating birds that traverse the area.
The Yew Reservation is located in Pangarati commune and stretches on a surface of about 1,5 ha. This is one of the three reservations of this kind from Romania, with 80 years old yew trees.