Late autumn in Agapia area
21 November 2011
No Comment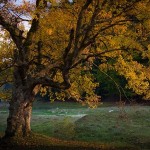 Agapia Monastery represents a true cultural center located in a beautiful natural area. The monastery is visited by thousands of pilgrims each year or by people who just want to enjoy the natural environment of this place.
The religious settlement from Agapia is located on the valley of Agapia – Topolita creek, at the foot of Magura Hill and is the only monastery from Romania that has also the name of "Christian love".
The road to the monastery offers picturesque images that in autumn look really spectacular. The sea of green grass becomes yellow, the flowers bend over to kiss the ground and the leaves change their colors from green to yellow and rusty-red.

Autumn toward Agapia 2011, Neamt County
Once you reach Agapia village you'll see traditional old houses where the nuns from the monastery live. Among the almost 300 houses you'll also find the memorial house of Alexandru Vlahuta. Near Agapia Monastery there are two other touristic attractions – "Codrii de Arama" (The Copper forest) and "Codrii de Argint" (The Silver forest).
Agapia area with its beautiful natural environments and touristic attractions like the monastery and the hermitage offers to tourists or pilgrims a chance to take a walk through some great environments and enjoy a special autumn day.