Swans on the lakes from Neamt County
22 December 2011
No Comment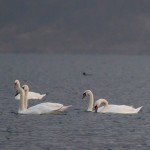 The winter is closing in and as usual on the lakes from Pangarati, Vaduri and Batca Doamnei we can admire the beautiful swans that come here to spend the winter. The swans come to these parts for several years migrating from the north regions with harsh winters. The swans remain here usually until March.
The birds are protected by the law and represent a true attraction in the area for many people that want to take a picture with these gracious birds. This is one of the reasons for which on the Shore of Pangarati Lake there are several observation spots.

Swans on Pangarati lake 2011, Neamt County
The locals are used to see the beautiful birds but for tourists that are passing by or spend a few days in Neamt County this is quite a view. The lakes Pangarati, Vaduri and Batca Doamnei are located on the middle course of Bistrita river and represent an important link in keeping the biodiversity of the region intact.