The Cave of St Teodora from Sihla
22 December 2011
No Comment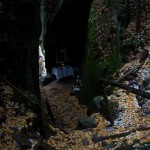 The cave of St Teodora from Sihla is located in the forests of Neamt County, in Vanatori commune, near the monasteries Sihastria, Secu and Neamt. You can reach the cave by car or on foot on the marked routes from Vanatori Natural Park. By car you can go from Piatra Neamt to Agapia Monastery and then on an 8 km dirt road until you'll reach Sihla Hermitage.  You can also go by car from Targu Neamt to Sihastria Monastery and from there on an 8 km dirt road until you reach Sihla Hermitage. From Sihastria Monastery you can also go by foot on a marked trail that follows the power lines.
The cave of St Teodora is a local religious attraction for pilgrims and tourists that come here to see the place where Teodora lived a religious life. The cave is located in a remote place and can be reached only by foot.

St Teodora cave Sihla 2011, Neamt County
From Sihla Hermitage you can reach the cave on a trail that goes near the old cellar of father Paisie Olaru and near the church made from the wood of one tree. The second trail starts before reaching Sihla Hermitage and goes near a rock from where St Teodora took the water for drinking and daily use.
The Holy Relics of St Teodora remained in the cave for over 100 years and represent the reason for the existence of Sihla Hermitage. St Teodora became a saint in 1992 at August 7. On her icon is written: "With all my heart I searched for you my God and when I found you my soul rested in your love". The Holy Relics of St Teodora are in Kiev, at Lavra Pecerska.