Experiment the sunset on Ceahlau Mountain during winter and visit the touristic attractions from the area
20 January 2012
No Comment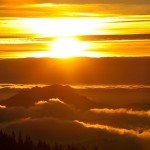 The scenery that can be seen on Ceahlau Mountain during winter is breathtaking and the beauty that this season creates on this mountain is indescribable. Those that love mountain hiking can discover this beautiful environment by taking a trip to Ceahlau Mountain. At the foot of this mountain there is Durau Resort where you can visit Durau Monastery which was built in the XVII century and was painted by Nicolae Tonitza and his apprentices.
The National Park Ceahlau contains three reservations: The Scientific Reservation "Ocolasul Mare", The Botanic Natural Reservation "Polita cu Crini" and the nature monuments "Duruitoarea Waterfall" and "Avenul Mare" (The Big Pothole). Duruitoarea waterfall is the most important attraction from Ceahlau Mountain with a height of over 30 meters.

Sunset on Ceahlau Mountain winter 2011, Neamt County
Ceahlau Mountain has 7 touristic routes that are well marked for tourists. Once you reach the top of the mountain the winter images will show you the surrounding mountains: Hasmas, "Pietrele Rosii" and "Magura Grintiesului". The trail that goes to Dochia Chalet takes you near the rock called "Piatra Lacrimata" (The Weeping Stone) and then near "Stefan cel Mare" Monastery.


The church of the monastery was built in 1993 near Dochia Chalet. The tallest peak from Ceahlau that is accessible to tourists is Toaca where there is also the meteorological station. Ceahlau Mountain is a mountain of passion and great sceneries.
Seeing the sunset on the top of this mountain will be an almost spiritual experience. The sun going down, the silhouette of Toaca Peak and the profile of the church, the surrounding mountain edges covered in clouds, the redness of the light … everything is perfect for nature lovers and those that love photography. Visit Neamt County and experience this moment during winter on top of Ceahlau Mountain.