"Miracolul Eminescu" Show at Piatra Neamt 2012
10 January 2012
No Comment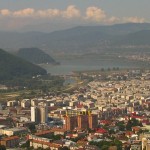 Saturday, January 14 2011, will take place in Piatra Neamt starting at 12:30 at the first floor at Galleria Mall a musical concert called "Miracolul Eminescu" (The Miracle Eminescu). The event is organized with the occasion of 162 years from the birth of our National Poet Mihai Eminescu.
The anniversary of the poet will take place in an unusual location for this type of cultural manifestation: a shopping center from Piatra Neamt. The organizers want to expose their songs with lyrics by Mihai Eminescu to a wide variety of spectators.
The poetic moments will be sustained by Teodora and Dan Iacob and the musical ones will be interpreted at guitar by Ciprian Solomon. The organizers of the event are "Carmen Saeculare" Cultural and Art Center together with Galleria Mall from Piatra Neamt.