Traditional food and top 5 touristic attractions in Neamt County
20 January 2012
No Comment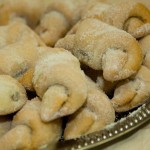 Winter is the season that turns Neamt County in a must-see location where the beauty of the environment blends perfectly with traditional food and hospitality. The cold fresh air of the surrounding mountains floods the soul and heart of any tourist.
Guests are welcomed in the pensions from the area with a small glass of tuica (local alcoholic drink) or wine, bread and salt. The menu contains traditional food and natural drinks prepared usually by the keeper of the pension.
While enjoying all these gastronomical wonders you can also visit some of the best attractions from Neamt County.
Neamt Fortress is a medieval touristic attraction built by ruler Petru Musat in the XIV century. The stronghold was restored in 2009. The golden age of this place was when ruler in Moldova region was Stephen the Great.

Traditional food in Neamt county
"Ion Creanga" Memorial House is a typical architectural monument where tourists come to discover the funny atmosphere from the tales of our greatest story taller Ion Creanga. This is the house where the writer grew and where the famous stories of his childhood took place.


"Dragos Voda" Bison and Carpathian Fauna Reserve is one of the biggest reservations of this kind from Europe. The reservation is located in Vanatori-Neamt commune, near the road DN15 that goes to Neamt Monastery and represents one of the most visited places from Neamt County.
Agapia Monastery is famous because of the painting of the church that was made by the painter Nicolae Grigorescu between 1858 and 1861. The monastery also hosts an impressive collection of medieval and religious art together with a library with old books and manuscripts.
Bistrita Monastery was built at the end of XIV century and is also the burial place of ruler Alexander the Blessed. Here Orthodox believers can see the religious icon of St. Ana and tourists can visit the Old Art Museum of the monastery.