Winter images in Barnadu – Sugau Gorges Area
18 February 2012
No Comment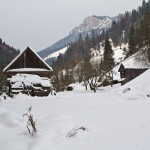 To all nature lovers and hikers we recommend visiting Barnadu – Sugau Gorges area which is one of the most beautiful and spectacular areas from Neamt County. The winter season offers some unforgettable scenery with white trees and hills dressed in white clothes.
The hiking to Barnadu village starts at the bus stop from Bicaz Chei village (at the base of Bicaz Gorges) on a trail used by the locals. While you climb the eyes stop on the beautiful massive stone walls that can be seen from the trail. The openings offer some great panoramas over Bicaz Gorges.
Barnadu village is not far away: the small village impresses with traditional wood houses and its isolation. The mountain scenery and the traditional houses, together with the hay barns create the uniqueness of this place. The locals protect nature and the local traditions and customs.

Winter images Barnadu Cheile Sugaului – Neamt County, 2012
When you exit the village the dirt road goes through the plains where the hay barns are. Here you can see the summer houses built from wood in a traditional style. The road goes to the right over the hills and descends to Sugau creek. The tall pine trees are full of snow. The images are breath taking.


The surrounding silence is disturbed only by the sound of snow under the boots of tourists. This is the place where the wind loses its strength and the warm rays of the sun come shinning through the tree branches. After about 3 km on a dirt road you'll reach the starting point of this journey.