Neamt County participates at the Romanian Touristic Fair 2012 – the XXVII edition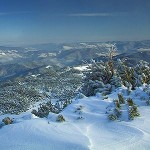 Between March 15 and 18 2012, Neamt County Council participates at the XXVII edition of the Romanian Touristic Fair. The event will take place at the Romexpo building in Bucharest where the stand of Neamt County has over 120 square meters.
The stand of Neamt County was created through the project "Promotion campaign for tourism in Neamt County through fairs and national exhibitions". The results of this project also consist in a touristic guide and a touristic map of the county, brochures, dvds, invitations and other promoting materials.
Neamt County also presents at the fair three touristic products: folkloric art, religious tourism and natural protected areas.

Tourism Fair 2012, Neamt County
The project "Traditions and Folkloric Art in Neamt County" presents the traditions and customs from the area and also the local artisans that help preserve the old traditions and skills.

Art and traditions in Neamt County, Neamt County
The project "Promoting the Religious Tourism from Neamt County" brings into the attention of tourists the old monasteries from Neamt County that represent true treasures from our past. These religious settlements are known for their spirituality and beautiful architecture.

Religious tourism in Neamt County, Neamt County
The project "Promoting the Natural Protected Areas from Neamt County" shows the beautiful natural areas in Neamt County. Forces of nature created in these parts incredible environments that are spectacular and different in each season.

Protected areas in Neamt County, Neamt County
At the edition from this year of the Romanian Touristic Fair, Neamt County comes with a varied touristic offer and with so many touristic attractions that wait for visitors to discover it.