Springtime in Negulesti area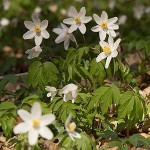 Negulesti area is at its best during springtime when nature reborn, creating spectacular environments. The main touristic attractions of the area are represented by the spa, outdoor walks, hiking, historic and cultural places.
Here are some of the main touristic attractions:
Negulesti Resort is located in a area surrounded by green hills, in Piatra Soimului commune, at 25 km from Piatra Neamt. The resort was created in 1847 and it's well known for the therapeutic qualities of its waters. Now days the resort has a capacity of 118 accommodation places with a restaurant for 100 people.
From Negulesti resort you can go to Duras waterfall, a superb mini waterfall at about 4.5 km from the resort. The two mountain creeks that are here, Iapa and Calul carved over the years a beautiful small gorge.

Spring time in Negulesti, Neamt County
In this area you can also visit the remains of Horodistea Fortress which is a testimony of the presence of the Geto-Dacian in the area. We invite you to see these places located in a beautiful natural environment.