A trip on Nechit Valley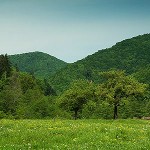 Tourists that come to visit Neamt County and are eager to discover the rural settlements can take a beautiful trip to Nechit Valley. Here they'll have the chance to admire a unique place located in a peaceful environment where they can admire the green fields, the flowers and the forest.
Nechit Valley is populated from the XIV century when several rural settlements were built here. Nechit Village is located up the stream of Nechit creek. Here the arable fields are like small islands inside the green fields.
In the village you can still see old houses with traditional architecture, built on high stone foundations, with a tall roof, a porch covered with boards, sculpted wood pillars and small windows with iron bars on the inside.

A trip to Nechit, Neamt County
Also on Nechit Valley there is Nechit Monastery, located in a picturesque environment. The first monk that came to these parts was Nichita the Monk from where the entire valley, the village and creek have their name. The monastery is built in a beautiful plane in the west side of the village and it's surrounded by a gorgeous forest.


The beautiful mountain ridges, the pine tree forests, the sound of the creeks will help you relax, forget about the daily worries and experience a beautiful day inside nature.