The local folkloric clothing in Neamt County
26 September 2012
No Comment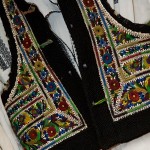 The folkloric clothing from Neamt County represents one of the main cultural elements that define the traditional clothes in the entire region of Moldova. The clothing pieces were handmade using traditional methods and decorated with traditional colors and models.
The traditional clothing of women was composed of a head piece called "broboada", catrinta, a shirt, a belt called "brau", a vest called "bondita", footwear called "opinci" and a bag called "traista". All the clothing pieces were handmade and decorated with floral motives.
Each area had different pieces in the clothing that were designed for holidays or between clothes made for people with different ages. The traditional men clothes were composed of pants called "itari", a shirt, a belt called "brau" or "chimir", footwear called "opinci" and a hat made of animal fur. During winter the thick clothes were made out of animal skins and furs.
These masterpieces of traditional art can still be seen at the ethnographic museums from Neamt County that we invite you to visit.

The traditional clothes in Neamt County, Neamt County