The most visited religious touristic objectives from Vanatori Natural Park
24 October 2012
No Comment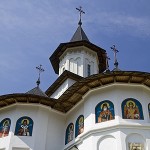 Vanatori Natural Park hosts on its territory numerous touristic attractions such as the old monasteries build in the forests of this park.
Neamt Monastery also known as the "Jerusalem of the Romanian Orthodoxy" was built in the time or ruler Petru I Musat and is the oldest monastery from Moldova region. The church of the monastery was built by ruler Stefan cel Mare and it's considered to be one of the most representative buildings of its time with decorated facades. The original painting can be seen at the entrance of the church and on the altar as well in the tomb chambers.
Varatec Monastery is located in a beautiful natural environment and it's known as the monastery with the highest number of nuns from Romania. The church of the monastery was built in 1808 in the moldavian architectural style with two cylindrical towers. Here you can also visit the museum of religious objects and the tomb of Veronica Micle.

Monasteries in Vanatori Natural Park, Neamt County
Agapia Monastery was built by ruler Vasile Lupu and it's well known for the interior painting made by Nicolae Grigorescu. The monastery also has a library with rare books and a museum of religious art. Here you can also visit the Memorial house of writer Alexandru Vlahuta.
Agapia Veche Monastery was built in the XIV century. The church of the monastery was rebuilt with several occasions. The church that we see today was built between 1990 and 1994 from thick pine wood.


Secu Monastery is a monastery of 500 years old. The museum of the monastery hosts cult objects, manuscripts, clothing pieces, old prints and other religious objects.
Sihastria Monastery is a monastery with a great role in the medieval history. This is also the place where some great monks lived: father Cleopa Ilie, father Paisie Olaru or father Ioanichie Balan.

Horaita Monastery was built in the first half of the XIX century and is unique because of the architectural elements of Russian influence. The church impresses with the beauty of the interior painting made in a shade of red.