Attractions of the Museums Complex from Neamt County
18 December 2012
No Comment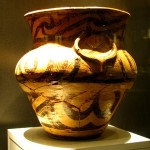 If you decide to spend the winter holidays in Neamt County, beside the entertainment facilities you can also visit touristic attractions from Neamt County Museums Complex. When you don't want to feel the cold of the winter you can take a quiet walk between cultural and art objects in these museums.
The museums are open to the public from Tuesday to Sunday, from 09:00 to 17:00 and the permanent exhibitions have over 300000 pieces to display. The museums from Neamt County offer to tourists a wide variety of collections: historic, cultural, ethnographic and art.
In Piatra Neamt you can visit the Natural Science Museum, "Calistrat Hogas" Memorial House, Cucuteni Museum and the History and Archeology Museum. In Targu Neamt you can visit the History and Ethnography Museum, Neamt Fortress, "Ion Creanga" Memorial House and "Veronica Micle" Memorial House. In Roman you can visit the Art Museum and the History Museum. In Bicaz you can visit the History and Ethnography museum.